Lighttown Jazzdays on Sunday 29-08-99
Gig of Jan Akkerman at the Dorint hotel in Eindhoven, The Netherlands.
Due to problems with his motorbike, Jan arrived 45 minutes late.
He started with "Pedestrians" or how this song has been known over the last few years with "Hocus Pocus" attached to it. It was played in a very passionate and enthusiastic way at a inimitable tempo, this wonderful peace of music lasted about 2 minutes.
Afterwards came the 25 year old "Streetwalker" that started with a beautiful acoustic intro which was later joined by Ton and Wilbrand with lots of enthusiasm.
During this song Wilbrand Meischke showed us, by means of a marvellous bass solo, that he's a real top musician.
Then came "Crackers" ("Klekkels in Chinese" Jan joked) greatly performed as ever with a stunning solo of Ton Dijkman on drums.
Break.
Now we had some time for a short conversation with Jan and to have a look around the venue. What at first seemed to be a very dull auditorium, proved to have changed into a very crowded one. Even behind the half opened windows were people that could not enter anymore to have a closer look. In the corridors outside the room were also many visitors.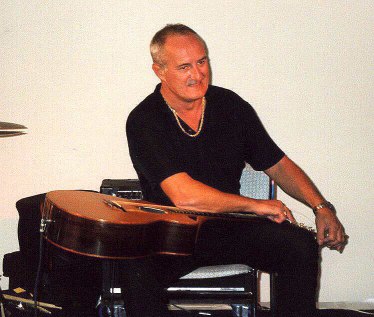 To be completely honest we must tell you that there were also some people that took advantage of the break to leave the hall. In an audience with age differences that vary from 4 to 82 years there are always a few people that walk in "by mistake" and that actually don't fit in. It's an open Jazz and Blues festival after all!
After the break Jan started with the breaking of a string. This resulted in a complete hilarious moment. After the mounting of a new one, Jan continued with "C.S./Tranquillizer" (Jan called this variant "Tranquillizer at the Central Station").
This was one of the finest performances we've ever heard, what a virtuosity! Jan also amused the younger generation in the audience. In a nice and humorous way he turned himself to some children that sat in the front rows and this future fans clearly enjoyed Jan's musical skills too!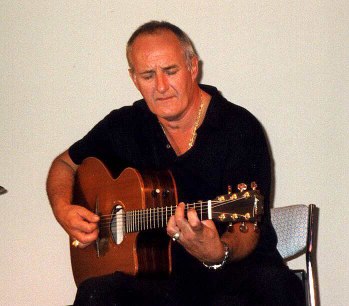 Then he continued in a more fierce way with "Red Pool House Blues" with all in all eight drum breaks and a super blood-curdling bass solo. As always "Sylvia's Grandmother" paid us a visit, this time without "Sylvia" herself. That classic one was played at the end of "My Pleasure", the final piece that was performed in such a flexibility that we fell completely silent.
Thanks a lot Jan, do go on like this and venues will continue to be crowded!
Jan van Beek (review)
Hans van de Put (photo's)
Irene Heinicke (translation)
---
© FFA Design