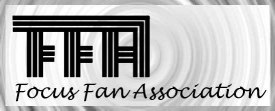 INTRODUCTION:
THE FAN CLUB.
Let us tell you something about the foundation of and the people behind the
Focus Fan Association.
In 1971 Jan van Beek made the first efforts to start a Focus fan club.
He later had to abandon the idea, because he had to do his military service, but he kept on thinking about it.
At the start of 1973 he began again and together with his fiancée Anneke Gaasbeek he came into first contact with some people with similar ideas.
Through a mutual friend Cees, he met Hans van de Put, who was also having plans for a fan club for a while.
From the first moment on things went pretty well between those two, they decided to work together on their ideas.
Hans' girlfriend of that time, Joke, also became very enthusiastic, so the quartet was complete.
They did a lot of meeting, talking, laughing, and listening to Focus records and in June the first official steps were made at the home of Yde de Jong. He was immediately willing to lend them his assistance.
They talked about a fan club magazine, how to achieve this in the best way possible and also got several addresses for instance of record company Bovema and of the producers Mike Vernon and Huub Terheggen. So contacts with these people were made, something that did not work out very smoothly all the time.
Through these people they gathered a whole lot of information about Focus, which proved to be extremely necessary, because apparently sometimes some journalists let their imagination run wild, so that one could not believe all the time what was written in their articles about Focus.
Then, during several performances, contacts with the boys of Focus were made, each member of the band was willing to give the fan club his full support.
Out of all this collected information a complete story was made about the foundation, increase and prosperity of Focus.
The next thing to do was to get this information out into the world, by means of the fan club magazine "Foclub" and through personal correspondence.
Response came from all over the world. Even in countries like Poland, Hungary, Japan and the USA people wanted to become a member of the FFA.
In England Gordon Taylor and Susan Hornsby had the same plans for a fan club.
During a Focus concert in England they contacted Yde de Jong, who advised them to get in touch with the Dutch FFA.
After an intensive correspondence they decided to start an international division: the Focus Fan Association International.
For further details about Gordon's story we refer to Akkernet.
During the whole Akkerman/Van Leer period the fan club remained active.
After Jan's departure from Focus, fans lost interest and the continuing of the FFA became less interesting, so we called it a day.
At present, after a quarter of a century, we like to continue our work in a more relaxing way and to us the Internet seems to be the perfect medium to do so.
After an Akkerman concert in Eindhoven on October, 30th last year, we made plans to get a website of our own with the help of former FFA member Irene and the young enthusiastic Wouter.
Nowadays the Focus Fan Association is no longer a fan club but only nostalgia, from this point of view we hope to meet some other former members of the FFA.
We will wait and see what happens.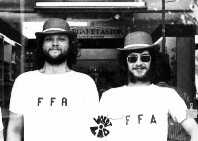 Story: Jan van Beek and Hans van de Put
Translation: Irene Heinicke
---
© FFA Design